How Creating Courses Put Me on the Map
(And How It Can Do the Same For You)
A few years back, I was in the exact same place a lot of bloggers are in today. Maybe even the same place you are right now.
Firepole Marketing was just starting to get attention, but I was a far cry from my ultimate goal: earning a good living from my blog.
Don't get me wrong - as my audience grew, some income naturally followed.
But at that point, I couldn't see how I was going to turn that corner from "just a blog" to a blog that was a real, thriving business.
It was frustrating.
Despite my (successful) efforts to deliver great content day in and day out, it just wasn't translating into much in the way of sales or income.
I wracked my brain to find some way, some angle, some approach that would allow me to finally make a living from the work that I loved.
And then it hit me like a big, frozen sledgehammer.
I was literally sitting on a goldmine, but even though I was right on top of it, I hadn't noticed.
See, this was back at the time when I'd gone on my guest posting tear of over 80 guest posts in a year. During that time, I went from "Danny who?" to "Danny Iny - the Freddy Krueger of Blogging, whose guest posts are everywhere."
Every day my readers, my friends, and even strangers were asking me, "Man, how do you do it? How are you writing so much, so quickly? How can I do the same thing?"
Suddenly, I realized that the goldmine that I had been overlooking was my *own* expertise.
It seemed as if everyone around me wanted to learn how to write like I did, so instead of answering them one person at a time, I made the decision right then and there to create a course to thoroughly teach the topic to anyone who wanted to learn!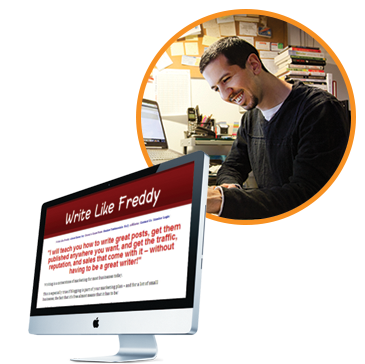 Now, I'm not the first person to come to that realization - and usually, the next step is to spend hundreds (if not thousands) of hours building an enormous training product without ever validating that it's really what people want and need.
That's why the internet is littered with thousands of products that nobody has ever bought, and I didn't want to go down that path.
So I put an outline together for what I wanted to teach, and invited a charter group of students to join the first run of the program. If that did well, my plan was to expand the course, and launch it to a broader audience.
Long story short, it did well. Very, very well.
Write Like Freddy sold out in pre-launch, and did very well in the official public launch - we ended up bringing on over 1,000 students in the first year alone. It was amazing.
And the best part was that I could finally make a living by teaching thousands of people a valuable, marketable skill.
It felt great!
Some time later, we went on to create the Audience Business Masterclass.
I followed the same basic process, but refined it with the lessons that I had learned the first time, and the results were even better... and because of that, the Audience Business Masterclass was even more successful, surpassing our most optimistic expectations.
The Audience Business Masterclass course...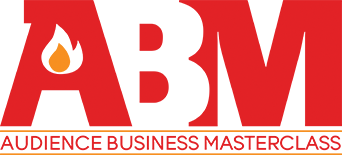 sold over $79,000 before it even officially launched
sold another $294,865 in its first official launch
brought in another half a million dollars in January 2014
has helped over 1,500 students to date
Now, if you know me at all, you know I'm not sharing those numbers to brag.
I'm sharing those numbers to show you exactly how powerful a great course can be for your business and for your students.
The success of my training course products was an integral part of Firepole Marketing growing into a million-dollar business.
Now, you might be thinking, "Well, that's all well and good for you, Danny, but what does this have to do with me and my business?"
Here's the cool part: You have expertise that can be turned into a profitable course, too!
Everyone does. You just need to learn how to find it.